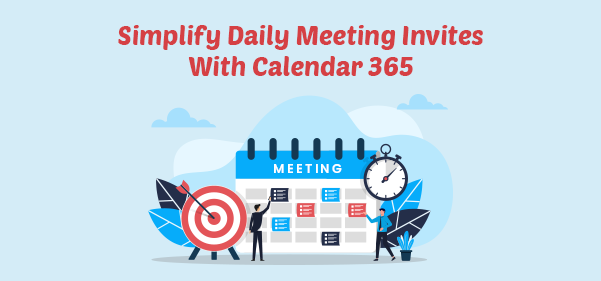 Scheduling a 30 min call with various teams at different times takes an hour to schedule. There is a lot of back and forth on emails and messages, with all the invitees agreeing at one time.
It would become easier if everyone were on the same page from the beginning. For that, organizations use tools to manage their daily calendar.
You all might have heard of or used Calendly at some point to schedule meetings. But here, the challenge is you have to manage it as an external tool. You have to add CRM data while adding meeting details manually.
This would take a lot of your time. However, you can reduce this time by integrating a calendar with your Dynamics 365. So you will have all the functionalities of the calendar within your CRM. This eliminates the need to manage multiple tools and go back and forth with your data.
A lot of professionals use the meeting link feature from Calendly to schedule meetings. Our Dynamics 365 calendar has all the important features you usually use in calendars, including the meeting link feature. Let us learn more about it.
What All You Can do With the Meeting Link Feature
Calendar 365 has a lot of features in it. Here we will discuss in detail the meeting link feature on how internal and external users can schedule meetings with a link:
Set Your Schedule
If you share a booking link with customers, you must let them know your availability. The calendar will show available time slots once you enter your working days and time. It is fully configurable. If someone is on leave, they can remove the respective date, which won't show the end users while scheduling a meeting.
For instance, Tam works from Monday to Friday and is available to take appointments from 11:00 am to 4:00 pm. So, Tam can set the number of working days and hours in Calendar 365. He can remove the days he is unavailable and change the time slots in case of any changes in his regular schedule.
Different Types of Events
Not all calls have the same duration. We have multiple types of events for customers to choose from. It will give both parties more clarity on the purpose of the call and how long it can last.
If you want to show time slots to customers, it is a must to know how long the call can last. With our Calendar 365, you can make this process a lot clearer.
Calendar 365 allows end users to select from three different types of events.
Intro call – 15 mins
Discussion call – 30 mins
Demo call – 60 mins
When someone is trying to schedule an appointment, they can select one type of event. This will give you and the customer an idea of what is expected from the meeting.
Here, each link generated is unique, and every user will have a personalized link as per their schedule.
However, we also offer customization on types of events. You can create events with durations of your choice.
Dynamic Time-Slot
When the customers select the type of event, each event will have a fixed duration. Based on those timings, the calendar will show the time slots. For example, if someone opts for an intro call, it will show 15-minute time slots. And if someone chooses a demo call, it will change to 60-minute slots.
These dynamic slots ensure your employee's time is utilized properly. You can divide the time into various slots per the different services offered, such as conferences, sessions, consultations, and more. This allows customers to choose the slots/services accordingly.
In case you are on leave or want some time off to prep for your next call, our Calendar allows you to restrict days, hours, and minutes before your next call.
So, if you are unavailable on a particular date or time, you can restrict it. Customers won't be able to see the restricted time slots.
Time Zone
If you have customers all over the globe, these features of our Calendar will save you from a lot of confusion and calculations!
Our calendar allows you to choose the time zone for your customers. You can choose the time zone you want, and all the time slots will be changed accordingly.
Not only that, but customers scheduling a meeting using a meeting link on Calendar 365 can choose a different time zone. It works best while dealing with international clients as it eliminates confusion while answering all scheduled calls.
Cancellation and Reschedule
We all have faced a situation where customers don't join the meetings because something urgent came up last minute.
If you had known it prior, you might cancel the meeting so that someone else could schedule their meeting.
To handle such last-minute changes our Calendar allows users to cancel or reschedule the meeting to handle such last-minute changes. You can set a time before they can cancel or reschedule the meeting.
Once the customer reschedules or cancels the meeting, that time slot will become available for other customers to choose from. This will save your sales team time.
On the other hand, if customers reschedule the meeting, they don't have to start from zero to schedule the meeting. They can simply change the time and date, and they will get the revised details of the meeting in the mail.
Benefits of Using Calendar 365
Calendar 365 is easy to set up and share with clients and internal employees.
Calendar 365 Meeting Link is reasonably priced.
The Meeting Link feature in Calendar 365 works with your existing calendars, such as Google Calendar and MS Outlook, to automate and streamline the often frustrating process of scheduling meetings.
It improves communication between clients and teams because sharing a link lets people see your overall availability and find the right time to book a meeting with you.
Our Calendar 365 Meeting Link is great for scheduling live demos for clients, webinars, and training events.
Calendar 365 Meeting Link will automatically send confirmation and reminder emails to help you stay on track.
It is the perfect tool for small to medium-sized sales teams that require a well-maintained flow of sales calls or demos.
To eliminate confusion, the Calendar 365 Meeting Link displays availability in your invitee's time zone.
Closing Thought
Calendar 365 is one of the best daily management tools Dynamics 365 users can use. It saves you a lot of time and effort in scheduling a meeting. Our meeting link features allow you to share the link with non-CRM users.
You don't have to pay extra for this feature. You will get access to all the features from day one. So, if you are using any extra tool to manage your day, it is time to reduce the struggle of managing multiple apps. Integrate our Calendar 365 with your Dynamics 365 to access all these amazing features.
This article is originally published on:
https://www.appjetty.com/blog/daily-meeting-invites-calendar365/