Shopify has opened doors for you to increase your sales if you also have an offline store!
With a store pickup delivery option, you can allow a customer to pickup the order from your store.
If the customer lives in the same city or region as your store, they might prefer store pickup in Shopify because they don't have to pay for shipping charges, and they can get the ordered item quickly (no more waiting for delivery).
Store pickup increases the visibility of your offline store. Customers can explore your store, check the quality of goods, and might buy a few more.
When customers have actually seen the products at your physical store, their trust in buying online from your store increases.
If you have an offline store, and want to learn how to enable local pickup in Shopify store follow these steps:
Go to your Shopify admin, click on Settings, and choose Shipping and Delivery
Under Local pickup, click Manage.
Make sure you set up your location before clicking Manage
Click on "This location offers local pickup"
Under Information at checkout, adjust the settings according to your preferences
You can also enter Shopify local pickup instructions for customers under "Order ready" for pickup notification
If your customers choose the store pick-up option, then they will receive the below email notifications:
Order confirmation
Order ready for pickup
Order picked up
The store pickup in Shopify store has some limitations.
Shopify only allows you to add location details to your store. But there is no option to add store timings. You might have different store timings in different stores, or maybe you stay closed on certain days.
In such a case, what will you do?
It is time-consuming to contact customers personally and tell them that you will only be available at this particular time and day.
If you don't inform them about your store timings, your customers might find your store closed, and they have to come the next day.
To solve this problem, we have a perfect solution for you – Shopify Delivery Dates and Shipping Rates app.
First let's understand why you need our app:
Our app allows you to use default Shopify locations that you already have on your Shopify store.
Other than that you can add new custom locations as well.
There is no limit to the number of locations for Shopify local pickup.
In all these location (default + custom) you can add different configurations like shipping days, time-slots, non-working hours, blackout days, and much more.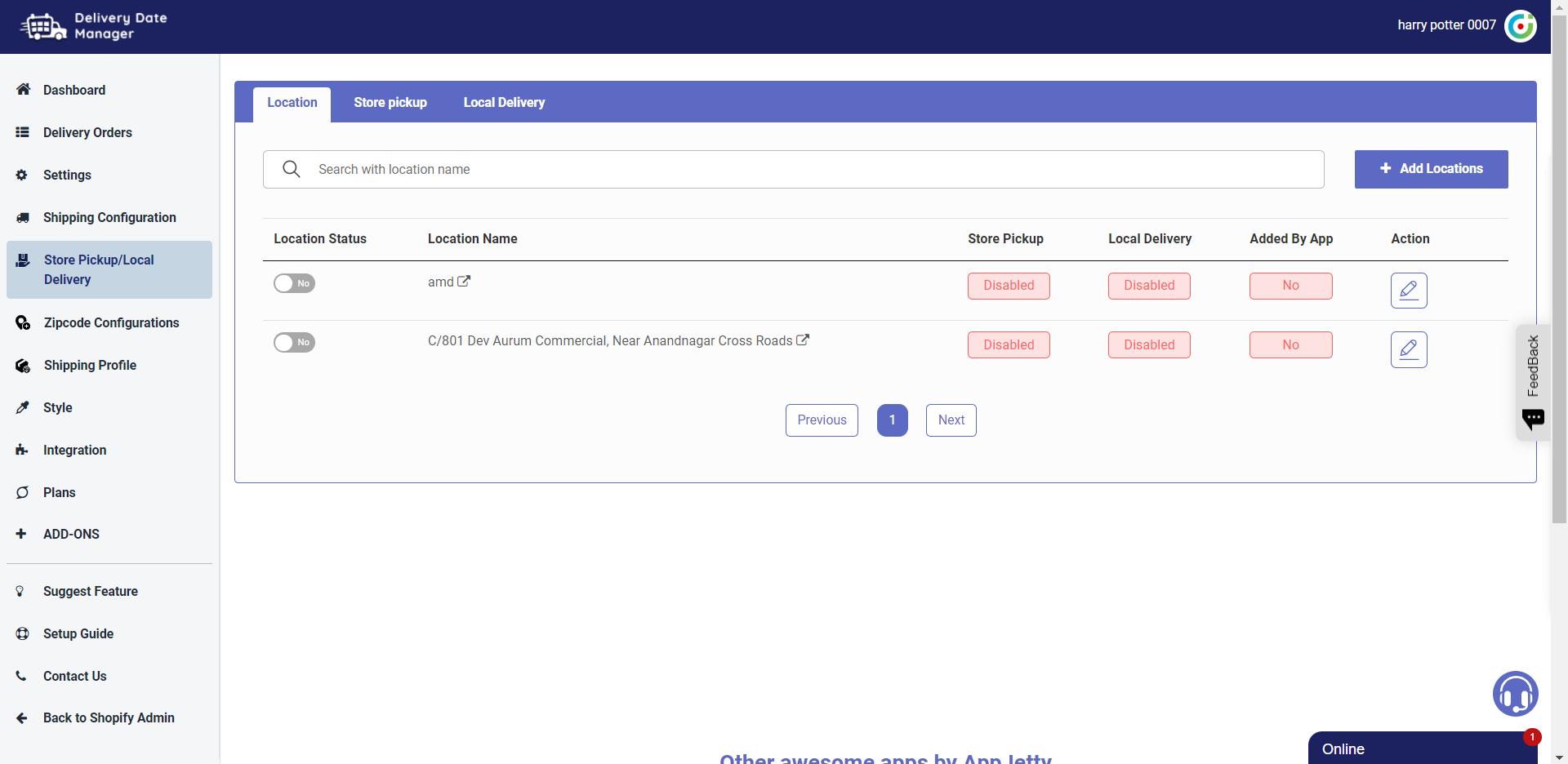 Wrapping Up
Our Shopify Delivery Dates and Shipping Rates gives three different delivery options:
Standard Delivery
Store Pickup
Local Delivery
You get all the configurations as shown in the above images for all these delivery options. It would make it much easier for you to sort deliveries and offer time-slots when you are available.
This app is a must have for Shopify store owners. You will find our app on Shopify app store.
All product and company names are trademarks™, registered® or copyright© trademarks of their respective holders. Use of them does not imply any affiliation with or endorsement by them.
The Article is originally published on:
https://www.appjetty.com/blog/enable-shopify-store-pickup/