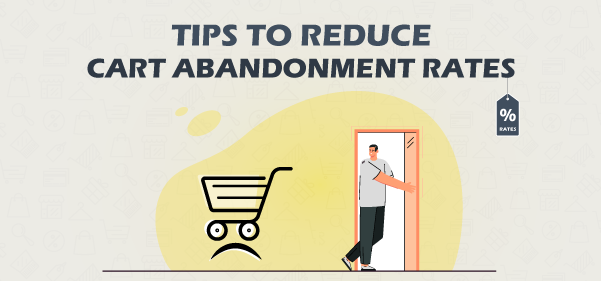 Convincing a customer to buy your product is a long journey! First, you have to attract customers to your website, then convince them with an attractive homepage and information for them to stay and look at products and add those to the cart. Finally, wait and wait for them to check out. Even after sending reminders for checkout, you see no action.
Cart abandonment is the major challenge most Shopify stores face. There are many reasons that can stop customers from buying the product. But then, some solutions can help reduce cart abandonment rates. First, let's understand what cart abandonment is, and then we'll move forward to its reasons and solutions.
What is Cart Abandonment?
It is a measure that shows how many visitors visited a website, added items to the cart but left the website without buying. It can be products or services visitors wanted to buy, but they did not complete the checkout process for some reason.
This issue is frustrating for website owners as they know the visitor liked the product, which is why they moved it to the cart. However, there something stopped them from buying it.
Well, there can be numerous reasons behind this. Let's have a look at a few of them.
Reasons and Solution for Cart Abandonment
1. Hidden shipping charges.
Have you ever encountered an experience of being surprised by the extra shipping charge while making a purchase? A lot of websites do this, and it can be a major turn-off for a lot of customers.
From a customer's perspective, they go through the website, like something, and add it to the cart, assuming they would have this product at a certain amount. But, during checkout, they see the extra shipping charges that they were unaware about added to the product value.
A study shows that about 49% of visitors abandon carts due to extra shipping charges. This number is huge. Visitors like the products, but extra shipping charges stop them from buying them.
Solution: Rather than surprising customers by adding shipping charges during the checkout process, add those charges to the product itself and give "Free Shipping." You can also add information in the product details that you offer free shipping for orders above X amount. Informing customers beforehand if you charge for shipping or offering discounts to nullify shopping charges can be a good solution.
2. Price Comparison
Nowadays, customers do not buy anything they see on the first go. They try to find the same product on different platforms and compare its prices. And if they find the same product at a cheaper rate, they would abandon this cart and go with a cheaper one.
Some websites help you compare the prices of products on different platforms. Many customers compare the prices rather than buy in one go. The other reason could be the feeling that the prices are high on all the platforms, and they drop the idea of purchasing it.
Solution: When you lose a customer in price comparison, stay connected with them via emails and notifications. If you lower prices during sales, you can inform them if they are still interested in buying the product. Such reminders help recover lost customers, which conveys that you care about their choices.
3. Out of Stock
What would be a perfect example of "cutting your own throat"? – A business not handling their stocks efficiently; when you have customers willing to buy a product from your website, but that product is out of stock.
It can be a bad customer experience for a customer who has spent so much time selecting a product and the product goes out of stock before they buy it. A: They might never return to you for the purchase; B: They might build up your website's image as someone who does not care about their customers' choices.
None of the above are good for businesses that want to scale or increase sales. If someone is investing time in buying a product from your website, it becomes your duty to ensure your inventory is sorted. It builds the wrong impression in visitors' minds.
Solution: An inventory management app is a solution to all your problems. They help manage stocks so well that your products are never out of stock. This tool helps with low stocks and saves you from overstocking the product and minimizing the cash flow. It also helps predict user buying patterns and notify the admin when it reaches a low stock value. You can also enable auto reordering for low stocks. If you have any products that are out of stock, inform customers on the product page and not during checkout, this would save their time (and your reputation).
4. No Delivery Date Information
Most people who shop online want to get products delivered real quick. Because we have platforms like Amazon with amazing logistic services and an efficient team to offer same-day and next-day deliveries, however, not all online sellers can offer such fast deliveries.
There are websites that sell handmade products. They require time to prepare the product, so fast deliveries are not an option. But sometimes, customers do not understand the reason behind late deliveries.
The other reason is when you do not provide an estimated delivery date. Customers might not buy the product if they do not know when you will deliver it. If they want the delivery before a particular date, with no delivery date information, they cannot figure out whether the product will reach them when they want it or not.
Solution: Convince customers to buy the product by giving them an exact delivery date or asking them to choose one. You can use the Shopify Delivery Date Manager plugin to add a feature that would help reduce cart abandonment rates. You can also ask them for delivery time slots for more specific deliveries. It can be a good addition to your store as it gives more clarity.
5. Not having multiple payment options
This is the reason that requires your most attention, as here, you are losing a customer who is all set to buy the product, filled all the mandatory checkout details, and is about to pay. But as you do not have enough payment options, they decide not to buy the product, leaving it hanging in the cart.
It is surprising to know the results of one of the studies that said 59% of customers prefer not to buy a product because their preferred payment method is unavailable. There can be various reasons for a customer not to choose any other payment method, not trusting other payment modes, or only using one payment method for all their online transactions.
Solution: As a store owner, it becomes your responsibility to add all popular and trusted payment options to your store. You can add security and trust badges, as it gives users assurance that it is a safe place to transact. Small changes and additions can reduce abandoned cart ratio in Shopify stores.
6. A lengthy checkout process that forces users to signup
Who likes to keep adding details when making a quick buy while commuting or enjoying a short break? Someone might be purchasing online for the first time; if they encounter a complex checkout process, they might not attempt to buy at all.
The other reason could be keeping sign-ups mandatory. Not all customers are ready for the commitment and wish to sign up. They might want to buy once from the website and just checkout as a guest user. Hence, complex checkout processes can demotivate them from buying the product.
Solution: Why complicate things when they can be simple? Have a single-page checkout process to make it easier for the buyers. Allow them to checkout as guest users rather than forcing them to sign up to make the purchase. You can ask them to sign up after the checkout if they wish to.
About AppJetty
A small change can make a huge difference in conversion rates. Cart abandonment is something that Shopify stores and most online store owners face. It is important to understand these issues from the end user's perspective.
AppJetty has been a Shopify Partner for many years and understands the challenges of Shopify store owners. And to overcome this issue, we have apps like CommerceXpand: A bundle of 28+ apps that helps store owners increase conversion rates and reduce cart abandonment.
Have a look at our Shopify Apps
All product and company names are trademarks™, registered® or copyright© trademarks of their respective holders. Use of them does not imply any affiliation with or endorsement by them.
The Article is originally published on:
https://www.appjetty.com/blog/shopping-cart-abandonment-solutions/